Gambia
Six years ago, whilst on holiday in Gambia, I came across a project set up in the village of Jabang, which was raising money to build a nursery school and medical facility. Developing countries like Gambia, situated in West Africa, need the opportunity of Education to move forward and this project which is set up by registered charity 'The Children of Gambia Services' (C.O.G.S) based in Hailsham, West Sussex, was doing just that.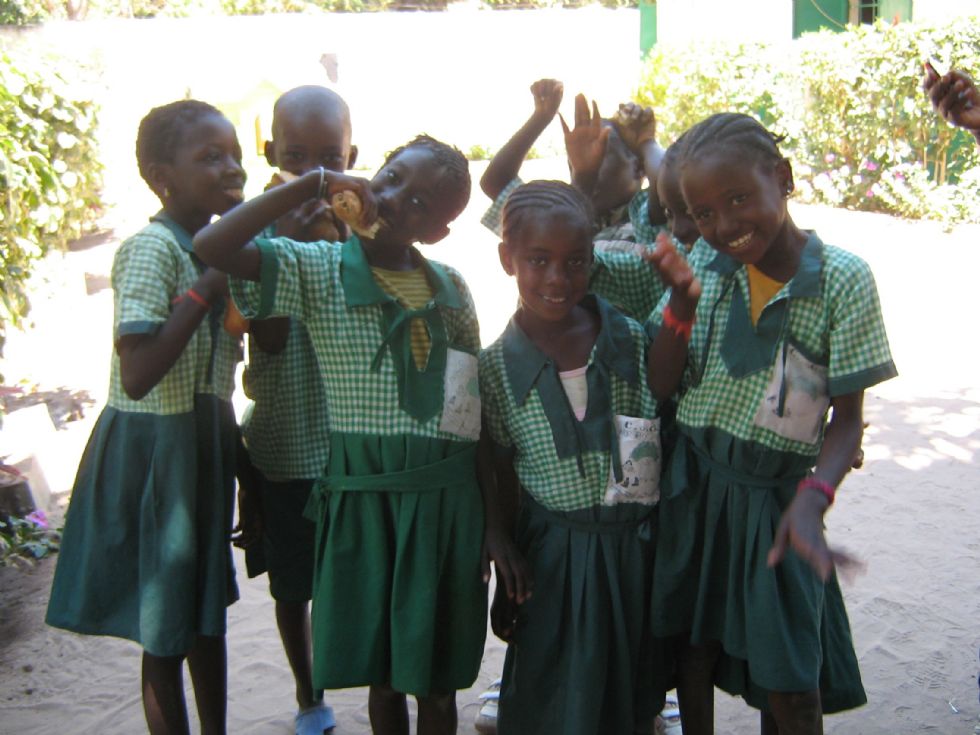 The following year, I flew out as a volunteer along with a large group of people from around Kent and fell in love with Gambia, it's people and the project.
Now, 5 years on, I have watched the Nursery School grow-now offering an education and hot meal everyday to 100 children between the ages of 5 and 9 years old. A Bore hole was put into the village in 2012, enabling the school to have water from a tap rather than a long walk to a well. A Medical Facility is presently being built in Jabang, which will serve the local community and villages further afield. This will provide a clean, safe place for women to give birth along with all other medical needs. Of course, being a charity, we totally depend on fund raising and donations, so progress can sometimes be slow.
Malaria is the biggest threat to the children of West Africa, spread by the mosquito and although they can be treated for this in a city-based hospital, often time is against them because they are unable to get the transport to get there. In such cases it can prove fatal. Our village has lost a number of children to this illness in the past, but by supplying the Nursery school and local families with Paracetomal and Calpol, helping to reduce a fever, time can be bought and treatment can be given in hospital. St Margarets church Halstead have generously supported this 'Donate a packet of Paracetomal' appeal in the past, to which COGS are immensely grateful. Of course every single packet donated, I take out and distribute, reassuring people that their donations really do make a difference.
Every child in the Jabang Nursery School requires a sponsor too- at the moment there are still a fair number who are without sponsorship, so are being supported by the charity. For just £10 a month, a child, like my sponsor children Oumie and Alieu, receive a school uniform, a hot meal, an education and basic medical care.
This year, following my trip out to Gambia at Easter, Squirrels class has linked up with a class in the Jabang Nursery school to start up a 'pen pal' system which the children in both Knockholt and Jabang are very excited about! Furthermore, when I return to Gambia in February next year, we are planning on using a Skype link during the school day, so the children on both sides of the Ocean can see how others live. I hope it will start to help our children realise how fortunate they are, having the things we all take for granted- running water, a comfy bed, a pencil to write with and shoes to walk to school in.
Over the coming months, St Katharine's will be organising some small fundraising events to raise some money for our friends in Gambia- wether it be to buy medical supplies or resources for the school in Jabang, all of which I am able to take out and personally deliver.
If you would like to find out more about this worthwhile charity or maybe sponsor a child in Jabang, please visit www.cogsgambia.org.
In the meantime, keep an eye for out for any small fundraising events here at the school- I know the children here at St Katharine's are very keen to help our Gambian friends!
Many thanks
Tina Bennett