Gambia - November 2023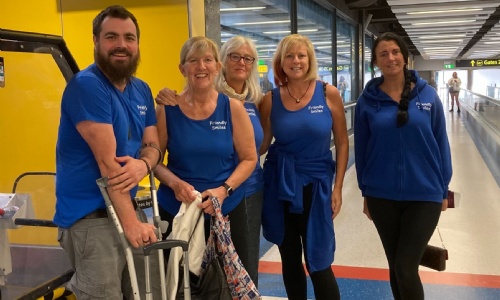 A few weeks ago, a kind neighbour knocked on my door with a big bag of beautiful children's books and asked if I would like them for Gambia? Her young daughter had sorted them out and asked her Mum if the children in Gambia might like them. How kind is that?
I find gestures like that completely heart-warming and having managed to somehow squash many of them into my case and various other people's hand luggage, I was thrilled to take them. Along with a team of 5 other willing volunteers, we took the Gatwick- Banjul flight on 3rd November.
This year's trip to Gambia, greeted us with temperatures in the mid thirties and uncomfortably high humidity. Along with plenty of biting mosquitoes, conditions at times were a little challenging, but as always, we were greeted everywhere with warm, friendly smiles and sincere handshakes from so many.
Our trip was only for a week, but with good planning and a willing team, it's amazing how much you can accomplish together.
This year, we were able to visit and donate resources to: Jabang's newly opened Birthing Centre, the COGS nursery school, The Sisters of Mercy Convent, Lamin Toube Nursery School, Jabangjelly Health Centre and the newly visited Banjulding Lower Basic School. We also were excited to meet Brufut Village young footballers and kit them out with donated football kits, boots, training cones, bibs and footballs, courtesy of the kind children of St.Katharine's Primary school.
On our first morning, having sorted out the large shipment sent earlier this year, our first visit was to the newly opened birthing centre in Jabang, where we were shocked to see they had no furniture at all, to run their weekly clinics. Both doctor and mother-to be, were expected to stand or sit/ crouch on the floor. They also mentioned they desperately needed more than the two large wooden benches there, to provide adequate seating during clinic hours. They suggested TEN were needed, but how busy could they possibly get? Maybe we misunderstood?
However, they weren't wrong.
When we visited the Monday clinic, we were horrified to see there were well over 100 pregnant ladies, many with young children, standing in the scorching heat, patiently waiting for their turn to come. Many crowded under trees, whilst others crouched in the dirt, perched on steps or improvised where they could, to get respite from the glaring sun. It was completely heartbreaking. I am pleased to say, that with monies raised during the year, we have now funded five more large wooden benches for the waiting area at Jabang Birthing Centre and also equipped the clinic consultation room with a desk and chairs. They were so very happy for these basic gifts.
At Jabangjelly Health Centre, along with quantities of first aid resources and other medical supplies, we were pleased to provide a large number of antibiotics/ painkillers and children's medicines purchased from a local Pharmacy wholesaler in Brikama and also funded urgently needed remedial works at the clinic and purchased a new fridge necessary for storing medicines safely.
Funds raised during the year, also provided several sacks of rice for village distribution, along with a sack to support the COGS nursery school feeding programme.
Whilst at Lamin Toube Nursery School, Friendly Smiles were once again able to leave headmaster Balanding Manka with funds to provide an educational school trip to the camel park and then onto Lamin lodge by the river, where the headmaster was keen to talk to the children about water safety.
The newly visited Lower Basic School (Secondary) was a perfect example of how with just very little, great things can happen. To spend time in the classrooms and to see how polite, disciplined and enthusiastic the children were, many of whom struggled to even balance their writing books on broken desks, was humbling. Friendly smiles were pleased to provide funds for the repairs to a quantity of desks and aim to continue with this commitment next year.
Progress is seen wherever we go and every year encourages us to return. Having provided funds for a cleaner at Jabangjelly health centre, our visit revealed once again that a good job was being done, and it was agreed we would provide funds for another year, supporting the running of an essential health facility.
I am indebted to everyone who continues to support me, from the wonderful knitters and congregation of St.Margaret's church, the enthusiastic participants of my Bingo nights at the Three Horseshoes Pub, the wonderful children and staff of St.Katharine's Primary school, kind neighbours, my ever generous family and lovely friends.
Finally, a huge thank you to my amazing team of helpers- Gini, Alex, Sharon, Jolene and Ruby May. Together, we made a small difference. Together we managed to accomplish all our goals and always of course, with a friendly smile.
Tina Bennett
Friendly Smiles- Gambia